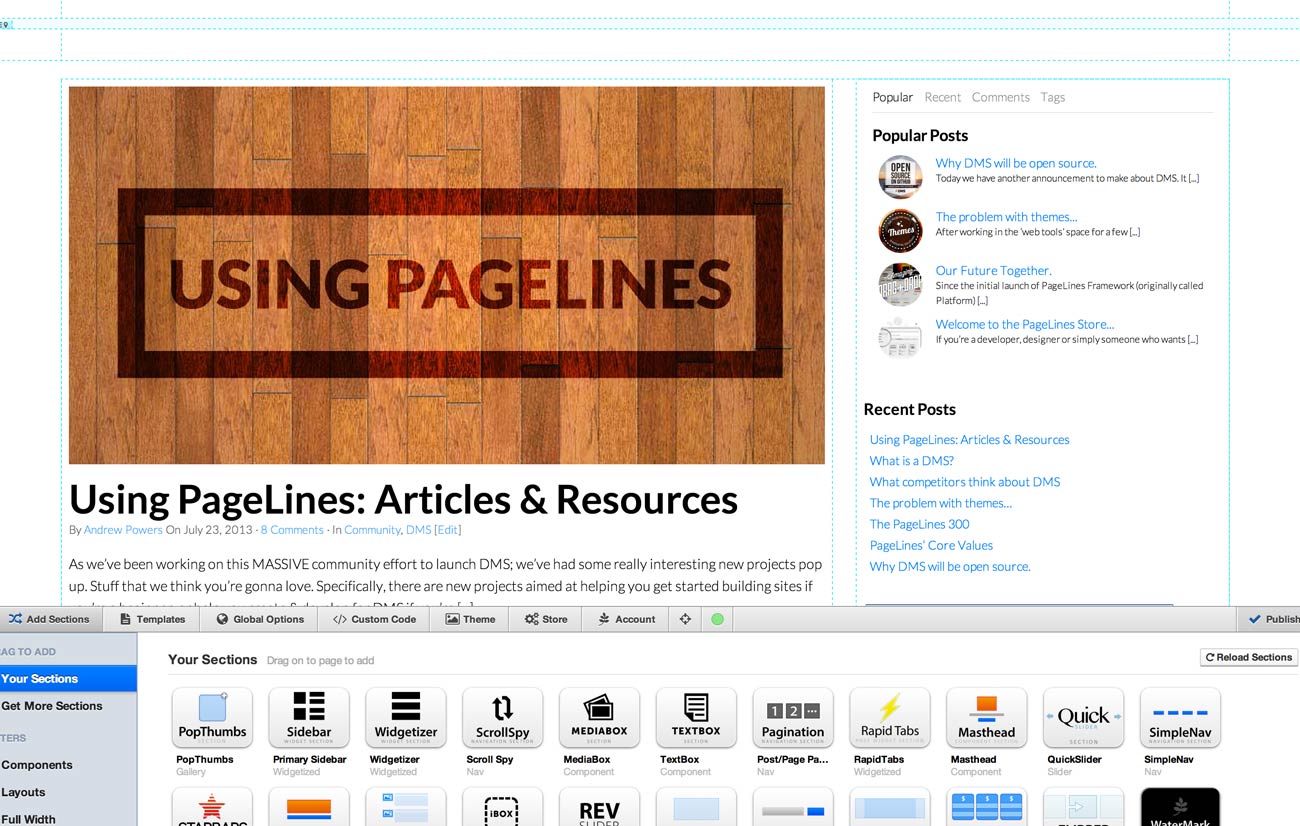 Pagelines, a WordPress hosting platform with focus on drag-and-drop tools for site management and design, wants to revolutionize the site design experience with a first ever design management system (DMS). However, someone thought Pagelines DMS tool was too sexy for you to handle so they hacked the hell out of Pagelines.com, twice!
Last night at 11pm, as we were prepping for launch, we had a malicious attack on the server that wiped all static files. It's ok, all data is secure and everything is backed up…

it happened again at 10:30am, our exact launch time. (Someone out there does NOT want you to have DMS)…
The Pagelines team moved the site to a new server and are working on getting things back to normal. At the moment, the second step of their landing page redirects to an error page on FlyWheel Hosting. (Flywheel Hosting and ZippyKid are helping Pagelines move to new servers.)
I truly feel for the Pagelines team. Launch day is stressful enough. Getting hacked on launch day is… wow that takes it to a new level of stress I can't comprehend. Whoever the hacker is, you're a motherf… I meant mother I would love you. Please don't hack DevPress.
Enough talk, let's see DMS in action!
That looks simple enough and it gets points for embracing open source. Check out DMS on Github. Also, using it is a unique experience as it turns your browser into a live canvas sort of like using your browser's inspection tool.
Unfortunately, it looks easy because the video walk through is done by someone very familiar with the system. My personal experience with DMS wasn't that simple.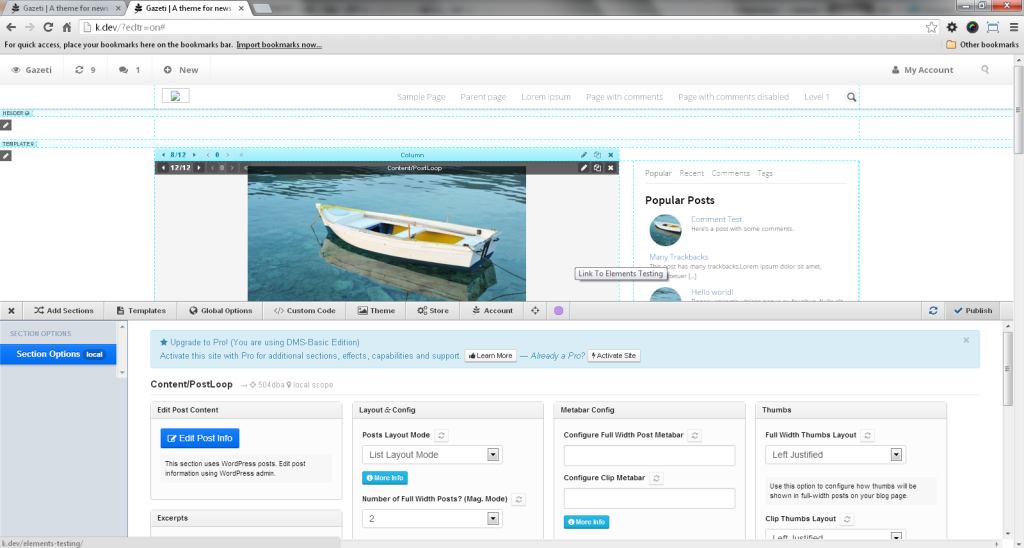 After 30 minutes, I could not figure out how to add a logo to the header area on my test site. I still don't know how.
I can't tell what is what among its 33 starter modules.
This problem comes with all modular drag and drop tools, not just Pagelines DMS. You see this problem in Carrington Build (CB) and all other plugins that imitates CB too. Not saying DMS is imitating CB as it takes a very different approach. There are plugins out there that are almost duplicates of CB.
Ironically, with 33 modules to start with in its free version and not knowing what is what, I don't feel like its enough. The overall experience for me as a user is a sad one as I'm constantly reminded to get a pro account and buy things from the Pagelines Store.
The only time my test site looked good was when I loaded the pre-made templates already available. It lead me to thinking the store would have more well designed modules I can simply turn on instead of wasting time to learn how to use the DMS system, but how much do I have to spend to get the exact site I want?
DMS is a walking contradiction
I might be wrong on this, but I feel DMS is built for people with more time than money as someone with a bigger budget would hire a designer/developer to get it done. However, its approach is based on presets and buying modules via the Pagelines store. It doesn't focus on easy granular control, which is something someone with more time than money would want? Am I making sense?
The thing DMS has gotten right is turning the browser into a live canvas and making you feel that anything is possible, but it needs results to back it up. At this point, it's a false sense of freedom and control.
Community Reactions
Oliver Nielsen reminds us that Pagelines DMS is not the only DMS in town. And like I mentioned above, DMS takes the preset and module approach while Headway gives you control of everything (from padding and margins to font size and color for every element). Personally, I've tried Headway and passed on it as well. A marriage between DMS and Headway would be the ideal tool, but it's very difficult to build such a tool and make it user friendly.
Donnacha of Wordskill says:
I'd buy whatever the guy in the video is selling … but I'm worried he'd just spend the money on more crack.
My first reaction to DMS is very similar to the quote above, but not that harsh. I think what Donnacha tried to say is "here we go again." Developers are very critical of drag and drop tools built for normal users, but marketed as a end-all-be-all tool. All of them claims to be the next best thing, but never quite measure up to the marketing itself.
While Donnacha's reaction doesn't look at DMS objectively and is NOT fair at all to the Pagelines team (haha), I agree that marketing of such products should be more modest.
Derek Kruger says:
I'm not saying they are going to design beautiful sites, lets face it, someone once thought spinning flaming skulls were awesome, but they will be able to realize their vision more quickly and easier than ever before
Agree. Cutting down the time to complete an idea by someone without design/development skills is where systems like Pagelines DMS really shines with presets and modules, but instead of pushing the Pagelines Store on to users, it should focus on cutting the learning curve.
Heck, even for me, if I were to do web development favors to family and friends, I would turn to Pagelines DMS for something simple like a one page brochure or a simple landing page to collect emails before launching the actual site. DMS can be very useful if you find the right project for it.
Update, Live Stream Youtube Demo
Andrew of Pagelines just announced they will try to do a live stream demo of DMS at 10:30am PST on July 25th, 2013. All you have to do is show up at the launch page at the right time.