DP Dashboard is a plugin for customizing the WordPress admin. Version 0.1 was certainly that and nothing else. Version 0.2, recently released, is way more than just a customization plugin.
Version 0.1, the Jab
Before delving deep into version 0.2, I need to explain 0.1. It's basically me saying, "Hey! Look at this thing that you can customize." Version 0.1 met resistance instantly because it wasn't ground breaking (although it continues to be the best selling item on DevPress) so I held off on promoting the plugin.
Basically, I took a safe step, got mixed reactions, and didn't feel right promoting a product lacking the "wow" factor. I took the 0.1 criticisms and went back to the drawing board living a hermit life for a month and half before emerging to release version 0.2 yesterday and say, "Here's what's actually possible."
Version 0.2, the Haymaker
Introducing version 0.2, the swinging-wildly, out-of-nowhere punch that's going to knock your digital socks off. Unlike 0.1, it does have the wow factor, here's proof. The new admin theme, Hunter, mentioned in that tweet is the main attraction for 0.2. But before we get to Hunter, here's a quick recap:
Features Added
Auto-update: Almost everyone asked for this so it's here now.
Media Uploader: New are two upload fields for banner and background images.
Custom CSS: This is not a new feature, but it was re-written so you don't lose your custom CSS with every auto-update.
Custom Theme Capability: This was not possible in 0.1, but it is now. Documentations on developing custom themes are coming soon.
Hunter: new admin theme.
Focus of Version 0.2
It no longer overwrites admin CSS. It is the admin CSS. DP Dashboard has been completely rewritten to remove the flash of default design before every refresh.
Most importantly, the focus is on allowing other developers to modify DP Dashboard. Open up the plugin so everyone who knows how can modify it at their own pace. If you're an expert, you don't have to wait for updates to get new features. Code it yourself and add it instantly through custom CSS or custom themes.
The Hunter theme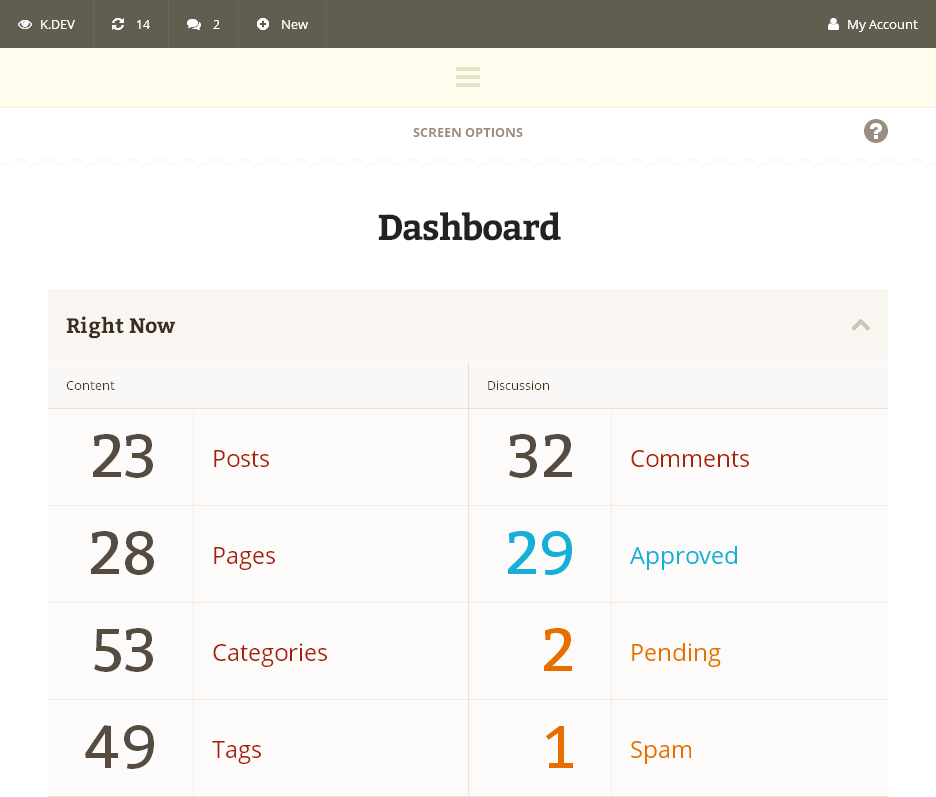 Any positive feedback for this release will be about Hunter. That's how important it is to version 0.2. However, it's not built for everyone. We're humans and individually experience things differently. If you love Hunter, it means you prefer to… flow/experience WordPress differently. It doesn't mean Hunter is superior to the default admin.
Hunter is a one-column admin theme built for single-tasking. Single tasking? Yes. Much of WordPress is built for multitasking. This explains the intimidation that greets beginners when first introduced to WordPress. There are so much to look at, all at once; it's overwhelming. If you prefer multitasking, use the Base theme.
You can have many features, but don't display them all on one page.
At the moment, almost everyone involved in WordPress core development seems to think the more features the better. There are pros and cons to adding more features. I'm not here to debate for either side, but I am saying not everyone need to use hundreds or even tens of features simultaneously so don't design the WordPress admin that way.
For example, if you need to write, just write. Don't worry about anything else. Here's Hunter simplifying the writing page: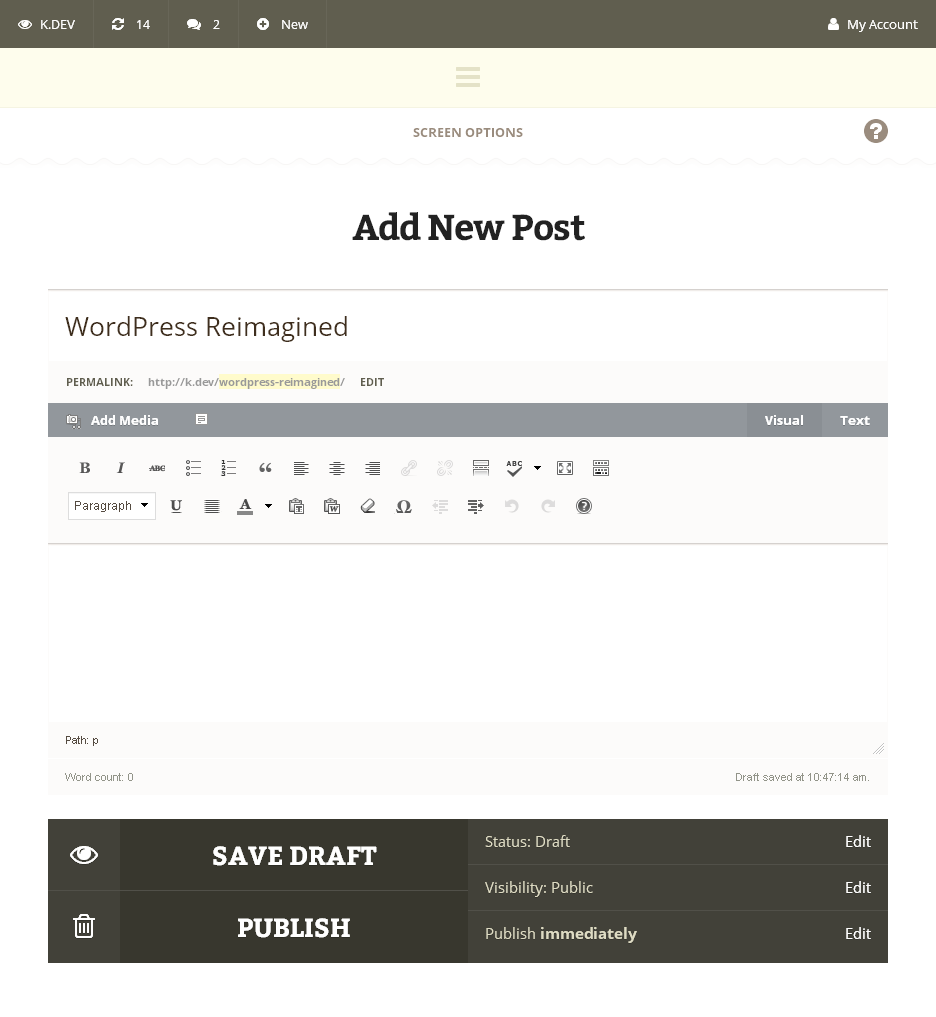 and compare that to WordPress's default design…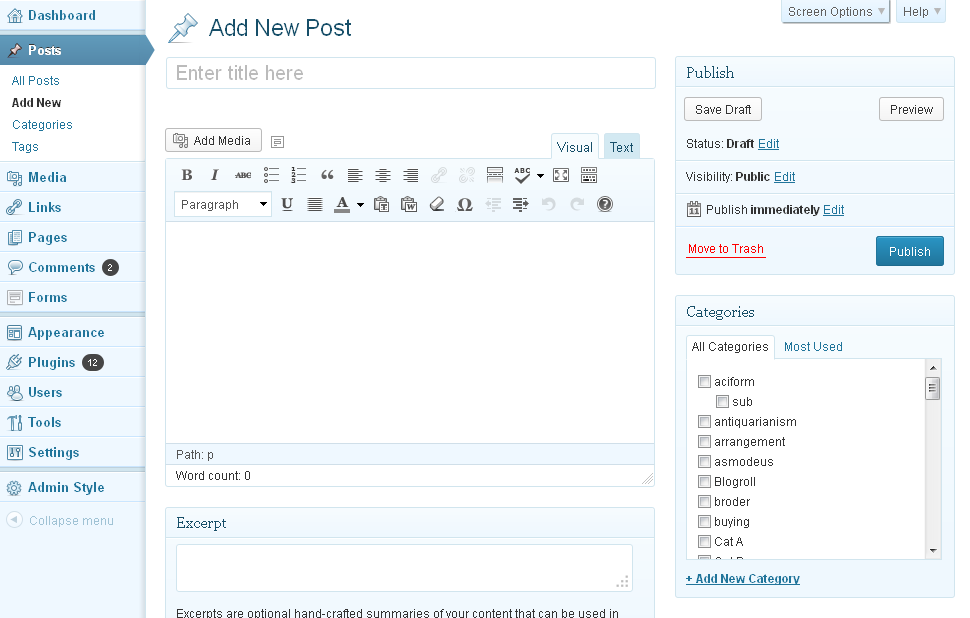 As you can see, they're two different philosophies. The latter is developer driven squeezing everything above the fold so you can access everything. The former is designer driven focusing on just one task at a time.
The Benefits of Hunter
Better experience for people who prefer to single-task.
An admin interface that you'd be proud to present to first-time WordPress clients.
Less presence of WordPress branding in your WordPress admin. There's no footer thanking you for using WordPress and the WordPress logo in the admin bar and on the login page is gone. Hunter is built for a personal experience, not a WordPress experience.
More Hunter Benefits
Selective indicators for main admin menu: WordPress places an icon next to every main menu item. This approach becomes less and less effective considering users can create their own custom post types through plugins now and many neglect to create a custom icon for each custom post type.
Also, when everything stands out nothing actually will, therefore, the Hunter admin menu uses icons for the most used items only. For distinguishing non-icon menu items, it relies on typography.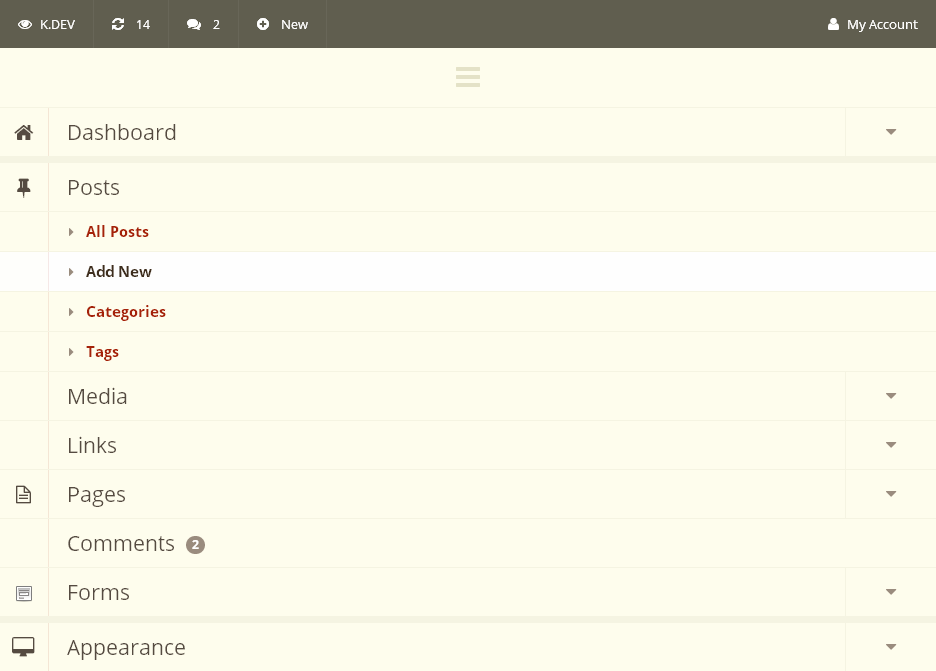 Simplified Menus page: This one is one of my favorite features. Menu boxes have been condensed into tabs. The default active tab is the Theme Locations tab so there's less guessing to do for beginners. The Widgets page was given the same treatment.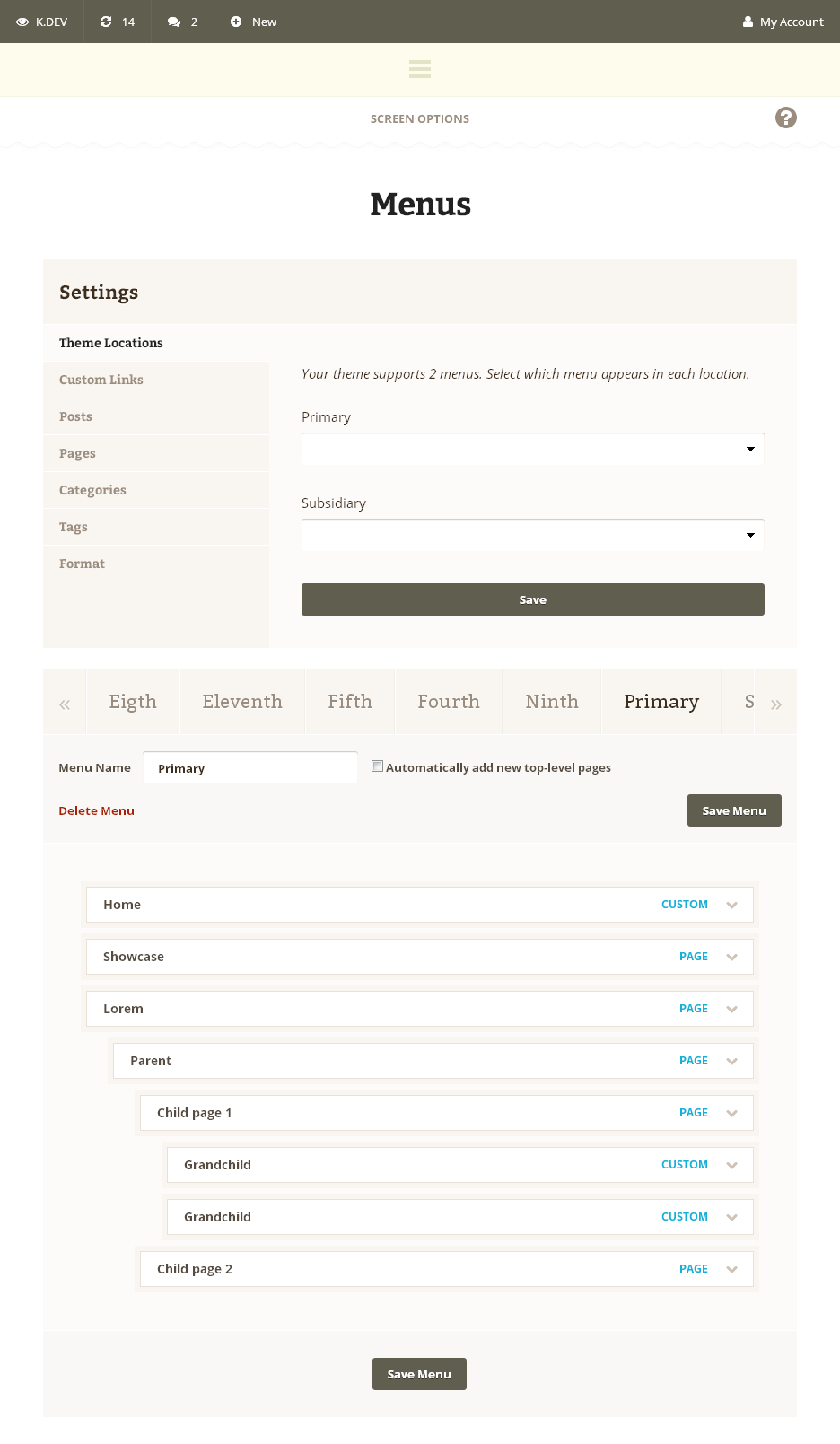 Improved comments listing on Edit Post page: A bad habit of mine is clicking on the comment permalink to read the comment on the front-end because the default design for comment listing on the admin page is not friendly. It reduces the entire comment content down to a wall of texts.
This habit is a huge waste of time so here's the new design to keep you on the same page for improving productivity.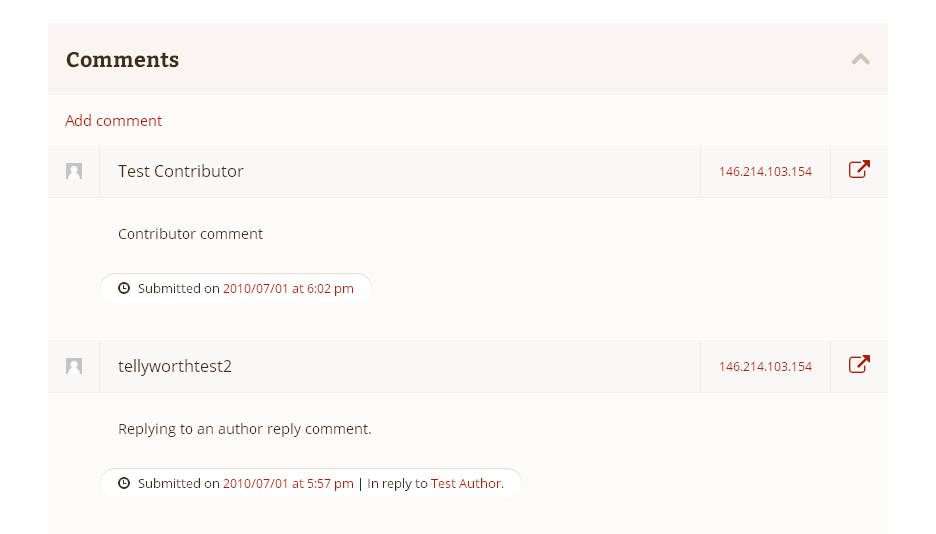 Redesigned Category and Tag adders: For people using many categories and tagging (probably too much), you don't have to thank me. I already know =).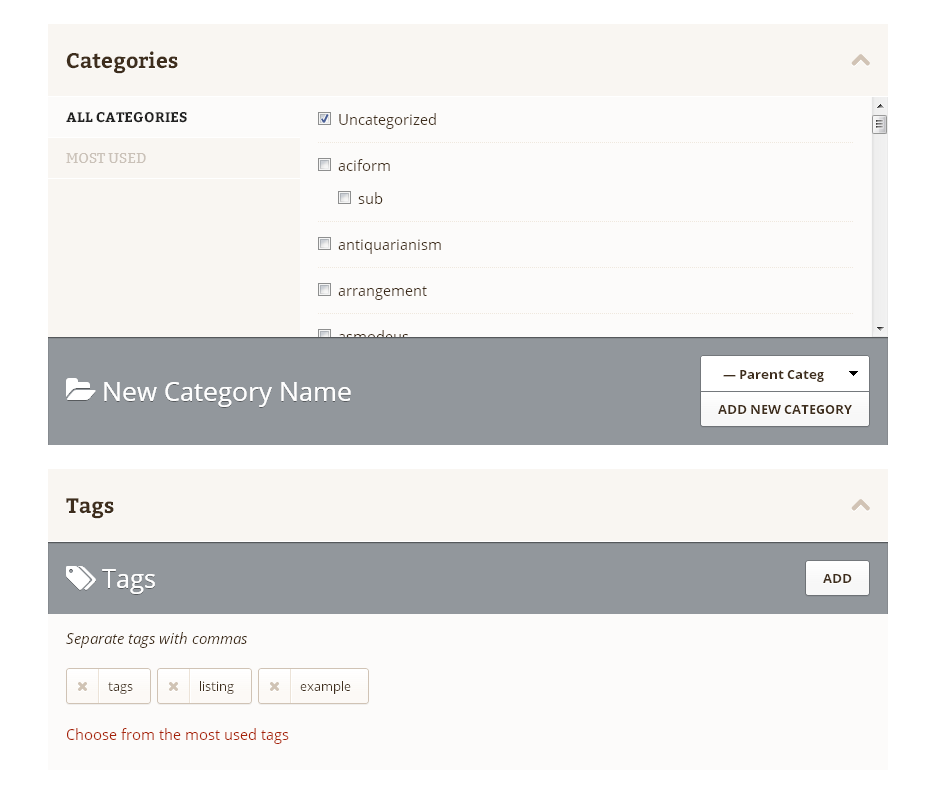 Conclusion
DP Dashboard version 0.2 is more than a handful. You'll have to experience all of the improvements and features for yourself.
By the way, I'm really bad at marketing. If you want to help me, I pay 70% per referral. Here's DevPress.com's affiliate program. The high commission rate is for thanking you for helping with what I know almost nothing about. I'm a developer, not a marketer. Although 30% profit per sign up is not enough to justify the work I've put in DP Dashboard, I believe in repeat business.
The affiliate program is currently invite-only. Once it goes public, the official commission rate will be lower than 70%. Invited affiliates will not be affected by the decreased commission rate. If you've been invited, your rate is 70%, always.