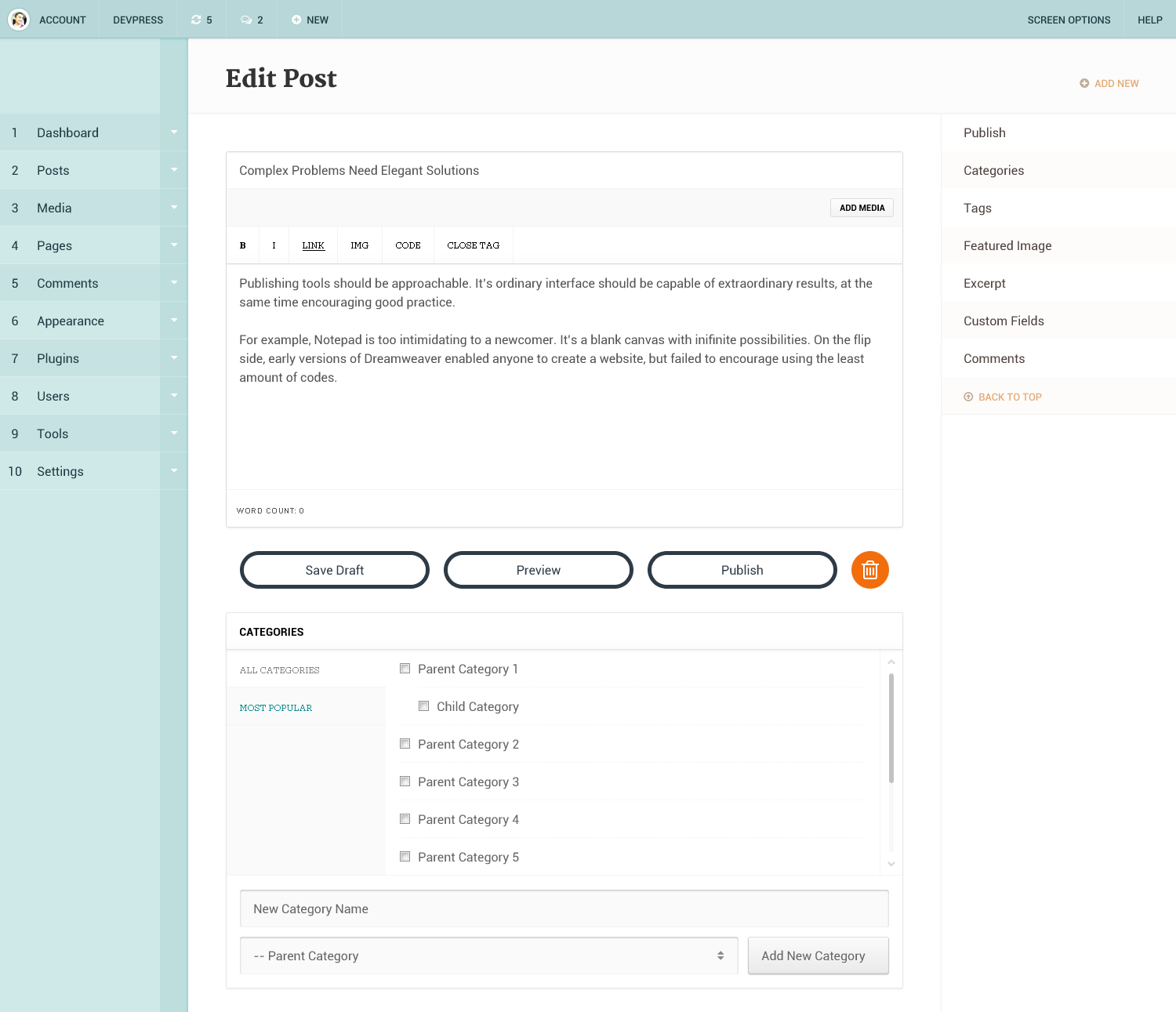 This Photoshop mockup is a draft of a new theme I'm working on for DP Dashboard. When this theme comes out, DP Dashboard will be compatible with WordPress 3.6 and the three existing themes: Base, Hunter, and Darkness will be removed because of this.
With the new theme, I'm trying to combine the best of all three existing themes with a few new ideas:
Numbered admin menu:
Organize and keep track of admin menu items by numbers instead of icons. The use of icons is nice for the default WordPress menu items, but it gets chaotic when you start installing plugins and custom post types. Using numbers helps you easily determine the location of the menu items by order instead of remembering icon shapes. I realize plugins that add new items to the menu will knock all existing items out of order, but its still easier to relearn the order than to constantly distinguish icon shapes. And, you don't install new plugins everyday so each new order you have to learn will be around for a quite a while.
Shortcuts menu:
Using the shortcuts menu on the right will help you move up and down the page without scrolling. Even with WordPress's default modular layout for moving meta boxes around, I always have to scroll because there are too many meta boxes. A good way around that is to stop moving boxes around and just get to it immediately. But don't worry, the option to move your most used meta boxes toward the top will still be there.
Remove the Visual Editor:
The new direction of DP Dashboard will cater to power users so removing the Visual Editor tab seems like a no-brainer to me as I've never found it useful. But still, I'd like some feedback on this before it's finalized. One thing to consider is some plugins/themes do leverage the Visual Editor by adding buttons for shortcodes.
Softer Colors
The color schemes of WordPress default admin design have higher contrast but they really test my patience. I often sit in front of the WordPress for long hours so I'd personally appreciate a softer palette. I think that's why Hunter (one of three existing themes) gets more love from DevPress members.
Draft Conclusion
Above are just ideas for the post editor screen, I'm working out the rest of admin pages and can't wait to show the whole thing. It's been a long time since the last DP Dashboard update so there will be a healthy amount of new stuff in the upcoming update. If you have WordPress admin pet peeves, tell me in the comments. I'll see what I can do!